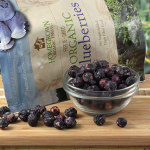 Recently I had the wonderful opportunity to dine with the executive team of Homegrown Organic Farms, which operates one of the largest organic blueberry operations in the country.  I've rarely met a more open, honest and intelligent group — and I am not saying that just because they are customers — so passionate about their product.  It being our first meal together we spent time swapping stories family and corporate histories.  My team, lead by local Xpedx technical sales representative Chris Kampsen then had a chance to learn about the range of new products they hoped to introduce.  They asked our help to develop the necessary packaging.
If you had told me I would be sitting at this table over steaks and Italian food nine months ago I would laughed in disbelief.  Back then we had nearly destroyed the retail launch of their freeze-dried blueberries thanks to pouches that failed during packing.  Quite simply the seals at the bottom of the bag which enable it to stand-up did not exist. You couldn't tell from the outside of the pouch.  The impression left by the seal bar was there, so the bags slipped past quality control.  If we had stuck our hands in we would have noticed the problem.  But that wasn't part of our quality control protocol back then.
We had been so proud of the pouch.  The life-like printing made the blueberries on the front come to life.  Pitch perfect blue.  The bag looked majestic, tall with silver edges, likely to catch the consumer's eye.  Our company knew that Homegrown had taken a big risk being first to market with freeze-dried blueberries.  So we thought we had taken extra care with the printing and pouchmaking.  The project was also our first with the Fresno branch of Xpedx and we wanted to shine.
Trouble arrived on a Saturday morning around 6:30 a.m.  I happened to look at emails while driving my daughter to a track meet in the Central Valley.  I know you shouldn't read emails while driving but the story was so compelling that once I started I couldn't stop. Our salesperson Barbara Gaitan and chief operating officer Pallavi Joyappa and Chris were trading notes about a potential pouch failure.  And as the day wore on the news got worse and worse.  The 4 oz. pouches did not work.  If something wasn't done fast the company would not meet its roll out.  We had no choice but to get good pouches out pronto.
Pallavi guided the rescue effort.  We sorted bags in inventory at our facility and shipped them.  That bought us a few days. Then we went back into production to make new pouches.  That meant finding a way to break into the schedule — a task that fell to my sister Maura — print and make bags.  Later we dispatched a crew to their packing facility to sort through the bags on the floor. It took two days in near freezing conditions but they culled out the failed pouches.
Homegrown made its first shipment thanks to the crisis management.  But we had left them with a hefty bill for ruined product.  Xpedx told me the not insignificant number and my head hit the desk.  It did not occur to me for a moment not to pick up the bill.  We run a company imbued with family values.  One of those is integrity.  We don't stick others for problems obviously of our own making.
I didn't expect Homegrown  to keep us as a supplier.  We had failed to deliver what they needed most — quality pouches.  But this company proved different.  They admired the lengths we had gone to address the issue and profoundly appreciated the efforts made by our staffers who sorted the pouches in frostbite conditions. The fact that we paid the bill without hesitation told them we stood by our customers.  To my great shock came the phone call that they planned to keep doing business with us.
Owner Karen Avinelis spoke plainly.  They liked our character so much they wanted to partner with us, provided (of course) that the problem did not recur.  I think I had not been so humbled in my life, and rarely so touched by a businessperson.  She not only taught me that doing the right thing sometimes pays, but that telling a person how much you appreciate their company's efforts can touch the heart.  Her willingness to give us a second chance made me look at how we treated our own suppliers.  Today I'm prouder than ever of that pouch.  Not because of what's on the outside but what's on the inside.  The soul of a family, the Homegrown Organics family, and the best freeze-dried fruit I've ever tasted.