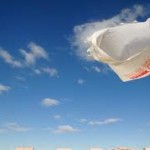 After over a decade of struggle, the plastic grocery carry-out sack looks doomed in California.  Earlier this month the legislature passed a state-wide ban on bags to take effect in July, 2015.  After that you'll either have to bring your own or pay 10 cents for a paper bag.  If you're like me and carry a reusable bag in your car, that means roughly a quarter of the time you'll get dinged for paper. I forget the bag that often.  One of my main arguments against the ban has always been that it disproportionately effects older people, who are more prone to forgetting.  Well, actually I've never argued that, but doing so may have convinced the American Association of Retired People to throw their weight against the bill.
Plastics manufacturers in California saw the ban coming years ago.  Back in the late 1990s regulators had taken aim at bags, thanks to the amount crowding municipal landfills.  Nearly 15 years ago our statewide plastics group, then called the California Film Extruders and Conveters Assn., saw the bag in the wind and pulled together a national plastics group to hash out a program to sidetrack bag legislation.  We proposed organizing a self-regulating industry commission that would levy a fee on each pound of plastic sold in California — less than a penny a pound — that the state could use to encourage recycling and clean-up litter.
Our group proved ahead of its time.  Too many of the large national bag suppliers as well as their Washington, D.C. trade associations opposed taking any action in California, arguing that a ban would never happen.  This position did not change much over the years, though the big companies moved from outright dismissal of our group's fears to actively fighting against bans by throwing dollars at the legislature.  During one particularly vicious fight in 2010 to block a bill opponents spent over $2 million.  Year after year such lobbying succeeded, which bred a belief that bans could always be defeated.  They got it right, until this year.
What changed?  My guess several things shifted.  To begin with the Latino Caucus, with its 24 mainly pro-business legislative members, has fallen into disarray.  Last year the FBI launched an investigation into the its leadership and the use of Caucus funds.  As a result caucus members did not want to appear beholden to donors, so money pumped into the fight had diminishing returns.  Grocers have also grown tired of the patchwork of bag laws across the state — over 100 cities and counties covering 35% of the state's population have already passed bans — and wanted a unified law. Finally, California corporations took varying positions on the proposed bill, which had not happened before, reducing the industry's clout.
Much of the news media overlooked that division.  Some company's actually benefit from the bill because it exempts reusable plastic grocery sacks from the ban, defined as one that can withstand 125 uses.  A few manufacturers already make bags that meet this standard, so the law creates a large market for them.  By contrast, the mainly large national companies that opposed the bill can't easily retool their machines to make reusable bags, which are thicker than their super-thin cousins.  The bill provided sweetener of $2 million to help California companies upgrade their machines to run compliant bags. The law exempts compostable bags completely, a provision that also peeled away some plastic opposition.
So the plot proved thick.  If only the industry had come together as hoped many years ago and tackled the problem on its own, this whole fight might have been prevented.  The industry did get behind a law a few years ago that mandated stores provide opportunities to recycle bags, but recycling rates never approached what regulators hoped.  Instead, the arguments made by environmentalists increasingly won over the public, even though many of the facts used by them were fiction, including that plastic causes oil pollution (it is made from natural gas), that plastic bags are a major cause of marine debris (studies have not shown this) and that endangered animals mistake bags for food (again, not much here).  But the environmentalists managed to make the single-use bag a symbol of our throwaway society.  Eventually they succeeded.
I've spent the last several years involved in the bag battles.  Our company does not make grocery sacks, but anything that harms the industry I figure in the end hurts us.  If plastic gets a bad name, who knows if our bags eventually get banned even if our produce packaging reduces food waste.  So I helped sue the city of Oakland to block its ban (we won) several years ago and lobbied in Sacramento when it made sense.  I was at the table when the industry began debating ideas about how to tackle litter and recycling.
Today I find myself somewhat relieved the bill wasn't worse.  At least plastics still has some role.  Of course there will likely be suits seeking to block implementation. An initiative effort has already aimed at overturning the ban has kicked-off.  But if California corporations can make hay by producing reusable bags, then in the end that's making the best of a bad situation.  A ban had become inevitable.  Ultimately the industry negotiated something short of unconditional surrender.  That's the best we could hope for in 2014.