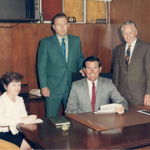 When my father started Emerald Packaging in 1963 he did so with three partners.  Over the years he bought them out, until in 1993 we became a family business.  Through the years the second generation slowly jumped on board. My brother came first, about 30 years ago, and took a sales role.  My sister followed and entered customer service.  I arrived almost 18 years ago after a career in journalism helping in operations.  My father ran a tight ship. The business prospered making iceberg lettuce bags back when such things were novelty.  He had a good plant management team, which allowed him to focus on sales, strategy and finance.
Then in the late 1990s he decided to begin handing over the reigns.  By then my brother handled some of our largest accounts and my sister oversaw scheduling, a tough assignment given the ever shifting demands of customers.  The  general management role came to me.  I apprenticed under my father and the plant management, sopping up as much as I could about how to run a company.  Certainly journalism had prepared me little except for providing me a grasp on strategy, the effect of world events on a business, and some understanding of finance.  It provided precious little experience managing people.
In 2002 my father officially retired.  My years as chief executive started.  I wish I could say all went smoothly but it did not.  Within my first month on the job we lost our largest account.  Then a month later our second biggest customer left.  Over $4 million of $18 million in sales disappeared overnight, more or less.  They left for different reasons. The first because of price, the second because they felt we didn't have the technology they needed.  Almost instantly cash flow disappeared, we posted our first ever loss, and Union Bank froze our line of credit.  The family came together and weathered the storm.  We landed new customers, found a new bank that helped us upgrade our equipment and one of the two recalcitrant's came back.  But the experience scarred me.  I never wanted to worry about financing or making payroll ever again.
Since then I have never had to face such times.  Instead we've built a vibrant, diversified company.  My brother developed accounts in Salinas and Bakersfield, my sister became a magician with the schedule, and I found the equipment, money and new markets to keep the business humming.  We bought our father out almost ten years ago.  This fiscal year we clocked in with over $80 million in sales and employed 275 people.  The factory runs around the clock, 7 days a week, 362 days a year.  We have the largest packaging operation on the west coast, making everything from stand-up pouches to complicated structures that preserve shelf-life to basic potato and lettuce bags.
But to get here we faced a different kind of challenge.  We had to hire the right people, give them responsibility and let them do their jobs.  We had to bring in capable middle and upper management and blend them into a family culture that tended to control every aspect of the business and gave trust sparingly.  Not an easy environment.  However over time we loosened enough that we've been able to attract several product development and industrial engineers, a strong technical sales manager to whom my brother reports, and a young woman who cracked the family tree and has become the second-in-command, our chief operating officer. Recently, to help us navigate our way to $100 million we signed on an experienced controller charged with financial analysis, replacing our deeply loved bookkeeper who plans on retiring in 2015.
I am not entirely sure how we made the transition from family business to a thriving corporation. Undoubtedly we recognized that to grow we needed help.  Our product development people helped us create new products which we could not have done on our own.  Our COO, who started out as a process control engineer, whipped our factory into shape, introducing quality systems, pushing productivity, and slashing inventory, saving cash.  Our sales manager pushed organic growth. He became the face of the company at many accounts, a first for us.  We also teamed with great outside salespeople, brokers, suppliers and distributors who helped us move into new markets, like fresh-cut fruits and vegetables and pouches for dehydrated potatoes.
Ultimately, I believe my siblings and I came to understand the difference between managing and owning.  Any family business set on survival has to recognize the limits of blood.  I cannot, for instance, develop new products.  We need a polymer scientist to do that.  Our sales team needs someone to oversee a large network of people selling our products and help organize customer service.  My brother did not want to do that.  My sister feels comfortable juggling the schedule but we needed someone to run operations.  If we tried to do all of these tasks we'd either be out of business or a much smaller, less successful company.
Parting with authority has not been easy.  Our COO earned our trust over 8 years.  The sales manager received responsibility only after 3 or 4 years.  But ownership means keeping an eye on the bigger picture, building a company of people whosZAZe skills help drive it into that future.  Ownership as a family company grows does not mean day-to-day responsibility.  Accepting this has allowed our family to look towards the horizon while letting people manage who will make us successful today and in the future.  My siblings and I accept we are stewards, who must protect the company and yet let go of it at the same time.