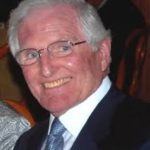 I haven't posted anything since March because for most of that period my father's deterioration due to metastasized melanoma overwhelmed me.  I want to begin again by posting my eulogy (one of four) and my remembrance delivered at a St. Joseph Notre Dame High School financial aid fundraiser. Given that so much of life over these months has been dominated by caring for him and then grieving his death, posting these tribute seems a fitting way back to writing.
Eulogy Delivered at Funeral September 10, 2016
The chronology of Dad's death couldn't be more mundane.  Immunotherapy treatment at UCSF for metastasized Melanoma begins in November.  The drug fails.  His undaunted oncologist Dr. Adil Daud then tries an immunotherapy medication that leaves Dad horribly sick from March to June.  But it seems to work.  His tumors have shrunk.  Surgery looks like an option.  But on July 12 a CT Scan shows cancer has colonized his liver.  His condition quickly worsens but an experimental therapy gives him a two week renaissance. He works out three times the second week, dines with friends, enjoys lunches at Claremont Country Club, and drives his visiting brother to the airport at 5:00 a.m. Then everything falls apart.  On August 20 the cancer takes over. To the shock and dismay of Dr. Daud, Dad's condition worsens rapidly until eleven days later, surrounded by family, he dies.
Yet those final weeks were anything but commonplace.  Dad emerged in ways never imagined.  He became himself, only more so.  Blessed with time despite his steep decline, he deepened his intimacy with family, sharing his love for us. His Irish temper vanished. Phone calls and emails poured in from people telling him how much he meant to them. They came from friends, relatives, Emerald Packaging employees, and around the world.  He had touched many lives, even transformed them, and now people returned the favor, letting him know his life greatly mattered.  He had time for heartfelt good-byes with friends.  He gave back, as always, this time to medical research by allowing UCSF to biopsy his liver, so they could discover why his tumors resisted treatment, and perhaps develop new drugs that would allow others to live.  Approaching death this man who used strength and drive to succeed in life deployed that same strength to accept fate, and die with a grace and dignity that transformed those present.
His acceptance of death awed me.  Until Thursday August 25, despite the circumstantial evidence, he believed he had several months to live at the very least.  He thought he could fight the disease like he had fought against the odds to rise from an Irish tenement to great success. But that evening his doctors told him his liver and kidneys were failing.  I informed him a CT Scan showed rapid tumor growth.  "You aren't going to get better," I said.  "You are dying."  I am sure those words stung but he demanded honesty.  He had lived that way.  I left that evening afraid I would return the next day to a depressed man.  Instead by sunrise he had accepted death.  "I am ready to go," he said.  "I have no regrets. I built a business, married the right woman, raised a good family, and contributed where I could.  If I can't be cured, it is what it is. I just hope I've done enough to get to Heaven." His response left me flatfooted. First, if he hadn't done enough to get to Heaven, who had?  Second, to me strength had always meant fighting.  That's what he taught.  Now he redefined strength into acceptance, even surrender. He started teaching his family how to die.
Immediately Dad's friends and family members mobilized.  The phone calls and emails buoyed his spirits.  This man who had mentored so many, who had helped those in need, who brought humor and loyalty to friendships, had little idea of the love that surrounded him.  Now it poured over him.  Mom came each morning and held his hand for hours.  His grandchildren, who he loved beyond words, flew in from college, called from Berlin and Cleveland, and sat at his bedside, holding his hands, talking to him, even on Tuesday evening, when he could no longer speak, only reply with a weak hand squeeze or slight smile.  His niece Kelly Anne Lynn left her job in New York to nurse him, as did Margaret Masterson, our adopted cousin.  Last Rites, surrounded by family, comforted him, and eased whatever anxiety might be left.  He died on August 31, a few minutes after his sister Mary arrived at his bedside, his rapid breathing slowly calming to nothing.  I do not pretend he did not suffer, but it was infinitely short, and merciful.  Two hours after his death 14 family members kept watch over him. On a hospital floor where so many suffered alone, Dad did not and even nurses who had not worked with him remarked he must have been a special man.
He was a special man.  Dad not only looked out for his family, he looked out for his community in ways most people don't.  On his deathbed he asked that we continue to "give back" by helping those less fortunate than ourselves as we were already doing. Dad contributed in so many ways to so many different organizations my mind reels. I have no idea where he found time to be a husband, father and businessman but he did. He virtually rebuilt St. Joseph Notre Dame High School, both donating and raising funds.  He served on the board of trustees of Holy Names University for years, and raised money there too.  Next Step Learning Center, St. John's University of New York, Bishop O'Dowd High School and Family-Aid for Catholic Education benefited from his determination to repay the debt he believed he owed Catholic schools for helping him get a start in life.  I think most importantly he started a company that today employs 250 people, allowing parents to provide for their children.  Emerald Packaging was his pride and joy.  Not only for the wealth it gave his family, but what it allowed him to do for others. With all he gave, he certainly finished the race, kept the faith. Undoubtedly the crown of righteousness is his.
"Love is most nearly itself when here and now cease to matter," the poet T.S. Eliot wrote in the Four Quartets.  Dad has died.  His love remains, and it is timeless.  Through our tears, our grief, our mourning he comforts us.  He calls us forward, into a deeper communion with family, friends and community.  What a great legacy, what a wonderful challenge, worthy of the man who accepted death without fear, and saw it not as an end, but a beginning.
Remembrance Delivered at St Joseph Notre Dame High School Fundraiser October 15, 2016
Before I begin I want to make something clear.  We are celebrating our father's life tonight because he died.  But if Mom died first we would be celebrating her's and Dad would be sitting at the table.  Anything Dad did for this school would not have been done without her full support, and in many cases without her active participation.  This school owes a debt to her as much as to Dad. Our celebration tonight really is a celebration of what they did together, not Dad alone.
Someone once quipped marrying Jim Kelly was the best thing Rosaleen Collins ever did for St. Joseph Notre Dame High School.   Like any pithy statement, it's at least partly true.  Dad's dedication to this school was complete.  He deeply wanted it to succeed.  No doubt the fact that Mom and their children went here provided some inspiration.  Mom's prodding to get involved certainly helped given the influence she had with him.  I also know that Dad had a soft spot for the underdog, for the second-in-line.  He disliked the local bully, Bishop O'Dowd, instinctively. He hated that O'Dowd was pulling students from Alameda to Oakland, students who rightfully should attend the Catholic school in their backyard.
So when SJND, stuck with ancient facilities and grappling with falling enrollment, called he threw himself into the task of the makeover. Dad raised money, gave money, hit up his kids for money until the transformation was complete. By the end SJND boasted the best campus in the East Bay, with a cutting-edge science center, a new arts building and state-of-the-art classrooms.  I note though that the credit for the Marionist Hall bathroom redo belongs entirely to the next generation, who not unsurprisingly refused naming rights.
SJND wasn't the only school that benefitted from Dad's efforts.  He raised money for his alma mater St. John's University in New York, in fact it was the Vicentians who mentored him in fund raising, Holy Names University, where Mom graduated, Northern Light's School and Next Step Learning Center in Oakland, which focuses on adult education.  He and Mom gave generously to the Diocesan financial aid organization Family-Aid for Catholic Education and supported fundraisers like this one at high schools throughout the Bay Area.
But why did he do all of this?  Catholic guilt? A wish to ensure his place in Heaven?  No.  You have to go back to his beginnings, the formative events of his life.  Dad was born to impoverished Irish immigrant parents, his father a bricklayer with a fourth grade education.  He grew up in an Irish tenement in Brooklyn, where education provided the only road out, the most promising path to prosperity.  Catholic Schools, with their low tuition and dedicated nuns and priests, provided the means.  He went to the local Catholic grammar school, graduated on to St. Augustine's High School where he ran track and earned a scholarship to St. John's as a 400 meter specialist. The GI Bill, which he took advantage of after guarding parts of the United States during the Korean War, including his beloved Brooklyn, helped him earn a Master's in Business from New York University.
Years before Dustin Hoffman received the career advice "One word: Plastics" Dad jumped into the high-tech industry of his day.  He climbed the corporate ladder at large multinational and then jumped out with Mom's support to form and run his own company Emerald Packaging, today owned by the second generation. Dad grabbed on to success with all the determination, verve and intelligence he had.  But he always remembered he owned that success partly to Catholic schools.
Now I've left out a big component.  Not intentionally but because she should have her own paragraph.  Without Mom, Dad would not have succeeded, not as a businessman or fundraiser.  Importantly for Dad, Mom had the social graces that the street kid from Brooklyn almost entirely lacked.  She taught him to curb his temper, be more polite, and learn the arts of normal human interaction not practiced on the streets of Brooklyn.  As he told me two days before he died:  "Whatever grace I have I owe to your mother. She took a rough stone and smoothed off the hard edges.  And it wasn't always easy."  In fact, she deserves a Noble Prize for her work.
Mom's social influence provided the foundation for Dad's success as a fundraiser. After all, no one would have given money to someone yelling at them.  His willingness to "give back" both through treasure and his wisdom reflected his deep debt to Catholic education. When Emerald Packaging provided the wherewithal for him to begin donating he did so.  Financial aid programs particularly attracted his interest. Even today, he knew, Catholic schools provide one of the few ways for disadvantaged people to get a good education.  Make no mistake. The financial aid programs here, at Bishop O'Dowd, Moreau and other Catholic high schools are one of the few ways for kids in east and west Oakland to receive a decent education given the state of our public schools.  Let's be clear: Do you think private schools like Head Royce provide the opportunities to these communities that Catholic schools do?  Not a chance.
Dad and Mom passed the obligation to "give back" – Dad's phrase – on to the next generation, and we carry on their work.  But Dad insisted that everyone who had ever benefited from the leg up provided by a Catholic education should give back.  It drove him crazy that people who had received financial aid and attained some wealth did not donate to the degree they could.  Not this group of course, and certainly not tonight.
Dad's death has been hard.  We miss him terribly. I know though that Dad would be honored by this remembrance tonight. He would think himself best remembered if everyone dug deeper into their pockets to support financial aid at SJND.  So tonight if you plan to give $50, I ask you to give $100.  If $100 then $150.  If $500, why not $750 or $1000?  And if you are flush enough to write a check for $5000, then go for $10,000, or be haunted by him the rest of your days.
Dad was proud of this school.  He loved the community and what it has accomplished, the opportunities it provided.  But he knew there was a price tag attached.  So he opened his wallet when asked.  In his memory, I ask you to open it a little wider tonight.